REALSIMGEAR PRODUCTS FOR Student Pilots
If you're working on your Private Pilot Certificate, or any of the more advanced ratings, having a high quality flight simulator at home can greatly improve the effectiveness of your time in the real aircraft. Being confident and proficient with all your aircraft systems and procedures will accelerate your learning and allow you to learn systems and procedures at your own pace, with the Hobbs meter running.
FLIGHT SIMULATOR BENEFITS FOR PILOTS
Gain Confidence - Practicing procedures and developing muscle memory will allow you to get the most out of the time spent with your CFI in the real airplane
Practice All Scenarios - Practising those in-flight emergencies and high risk scenarios with no risk
Develop Muscle Memory - Practising procedures and scenarios repeatedly at home will allow you to get much more out of every flight lesson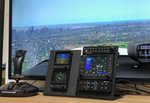 master all garmin avionics
RealSimGear offers products that match all the popular Garmin avionics that are common in training aircraft. Configure your setup to match what you fly, it's possible to re-create just about any aircraft panel to provide a realistic and cost effective home training environment.
EXPLORE AVIONICS PRODUCTS
Realistic G1000 Simulators
The RealSimGear G1000 Suite is a complete, high fidelity replica of the Garmin G1000 that enables you to practise effectively using your home flight simulator. All buttons, knobs and functions are accurately presented for procedural and system training.
Explore G1000 Products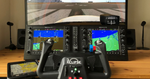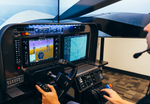 FAA Approved Simulators
RealSimGear offers FFA Approved, Basic Aviation Training Device (BATD) simulator packages that allow you to log hours toward various certificates and ratings, as well as main IFR currency at home.
Explore FAA Approved Products
Cessna Flight Sim Products

RealSimGear GNS430
High quality replica of the Garmin GNS430, allows for control of COM and NAV radios, GPS functions and IFR procedures

RealSimGear GTN750 and GFC500 Bundle
The GTN750 and GFC500 bundle allows for full control of COM and NAV radios, transponder, audio panel and advanced autopilot functions with a touch screen interface.

RealSimGear - G1000 Package
Complete package including G1000 PFD, MFD and audio panel, RealSimGEar Generic Switch Panel, modular panel mounting system, flight controls, PC and software.