Performance. Efficiency. Safety.
Diamond Aircraft is a top choice for aviation training because of its advanced technology, impressive safety features, and excellent performance. The company was a trailblazer in the aviation industry, introducing Diesel pistons before any other aircraft manufacturer. Their aircraft are constructed using high-strength glass and carbon fiber composite materials, making them exceptionally durable, aerodynamic, and safe when compared to traditional aluminum airplanes.
For Diamond Aircraft owners who wish to hone their VFR/IFR approach skills, perfect their checklists, and develop muscle memory to remain proficient and self-assured during flights, the RealSimGear range of Diamond Aircraft Flight Simulators is worth exploring.
PRACTICE APPROACHES |  MASTER YOUR FLOWS |  STAY PROFICIENT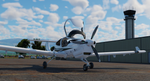 DIAMOND DA40 AND DA50 AIRCRAFT
The Diamond DA40 is a four-seater aircraft that features the Garmin G1000 avionics suite, or the newer Garmin G1000 NXi avionics system in newer models. The RealSimGear DA40 is compatible with both systems. Alternatively, the DA50 is a larger and more powerful single-engine aircraft that can seat up to five people. It offers advanced avionics and safety features, resulting in increased range and higher cruising speeds compared to the DA40.
FAA APPROVED AND REGULAR PACKAGE OPTIONS
RealSimGear DIAMOND BATD
The RealSimGear Diamond flight simulator has received FAA approval as a Basic Aviation Training Device (BATD) for Diamond DA40NG and DA50 aircraft. This means that the time spent using this simulator can count towards obtaining a private or instrument rating, as well as maintaining instrument currency.
REALSIMGEAR DIAMOND PACKAGE
Our full turnkey Diamond flight simulator packages works well with all variants of Diamond aircraft including the DA20, DA40, DA50, DA42, and DA62. Master the avionics buttonology, practice pre-flight to shutdown following the Diamond checklists and flows, and use the simulator to maintain your proficiency with basic flying skills.
Why get faa approval
As the old saying goes, a PPL is merely a license to learn! Using a BATD system after obtaining the PPL helps maintain pilots' proficiency by enabling them to practice basic flying skills, maneuvers, navigation, and emergency procedures. The more pilots reinforce their learning with consistent practice, the better they become as pilots.
Instrument-rated pilots can use a BATD to maintain their currency as per FAA requirements, commonly known as the "6 in 6" rule, which mandates completing 6 instrument approaches, holds, and course tracking within the previous 6 months. Using a BATD, pilots can practice these maneuvers and more from the comfort and safety of their own location, enabling them to perform additional approaches/scenarios and emergency procedures, which will enhance their proficiency.
Although student pilots can log up to 2.5 flight hours towards their PPL using an FAA Approved BATD, the primary benefit is gaining familiarity with the aircraft avionics and practicing maneuvers they have learned in a real aircraft. By mastering their flight concepts, approaches, emergencies, and flows from home, rather than in an actual airplane, student pilots can reduce the cost of initial flight training and in some cases, substantially decrease the number of hours needed to achieve the PPL.
A BATD can be an invaluable training aid for a Flight School or FBO. It enables them to provide lessons irrespective of weather conditions and offers cost-effective training resources. Both students and pilots can use these systems to enhance proficiency and maintain currency, leading to increased student and experienced pilot retention, as well as helping to attract new students.
PER THE TERMS OF CERTIFICATION, THE REALSIMGEAR FAA-APPROVED BATD PRODUCTS ALLOW FOR:
§ 61.51(b)(3) – Logbook entries
§ 61.51(h) – Logging training time
§ 61.57(c)(2) – Instrument experience
§ 61.65(i) – Instrument rating: not more than 10 hours
§ 61.109(k)(1) – Private Pilot Certificate aeronautical experience: up to 2.5 hours
§ 141.41(b) – Approved for use under the part 141 appendices as follows:
–Appendix B – Up to 15% towards the total Private Pilot training time requirements
–Appendix C – Up to 25% toward the total Instrument training time requirements