REALSIMGEAR PRODUCTS FOR Piper / TBM AIRCRAFT
With modern flight simulation software, and RealSimGear hardware, it's possible to have an ultra-realistic, effective and affordable to have a home flight simulator to practice with.
A Piper HOME SIMULATOR HAS REAL BENEFITS
Practice VFR/IFR approaches
Practice checklist usage, cockpit flows and phases of flight
Fly into unfamiliar airports
Learn and get more comfortable with GNS/GTN systems
Practice advanced autopilot usage
Use with real ATC services to practice radio usage, IFR clearances etc
Realistic Piper Simulators
Compact design that includes all cables and adapters, simple to setup, easy to move, yet provides an incredibly realistic and accurate way to practice flying the Piper G1000.
Explore Piper Packages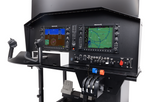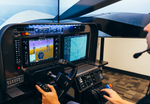 TBM Aircaft Simulators
Ultra realistic and highly durable, our TBM simualators are designed to work with the study level HotStart TBM900 aircraft. Pre-assembled and ready to use with integrated cabling, this system easy to setup and move around.
Explore the TBM Package
G1000 Flight Sim Products

RealSimGear G1000 Suite
Great Desktop Training Solution, includes PFD, MFD and audio panel with option desktop mounting bracket.

RealSimGear - G1000 Package
Complete package including G1000 PFD, MFD and audio panel, RealSimGEar Generic Switch Panel, modular panel mounting system, flight controls, PC and software.

RealSimGear - Cessna BATD
FAA Certified, Basic Aviation Training Device for Cessna 172/182 G1000