FAA Approved FLIGHT TRAINING DEVICES
Full range of FAA Approved ATD's. Including both (BATD) & (AATD) flight simulators for home, commercial, or flight school use.
Explore FAA Approved Products
Cirrus Simulator Packages
Gps, autopilots, audio panels for home flight simulators for around the price of one flight lesson. We also offer full turnkey packages
Explore Cirrus Packages
Fly Relaxed & Care Free
More experience with your VNAV, GPS and other avionics make for a more stress-free flying experience. Now you can get that practice at home for a fraction of the cost and hassle of in-air training.
Shop Now
REALSIMGEAR EXISTS TO HELP YOU LEARN AVIONICS MORE EFFECTIVELY
We've experienced the intense pressure of check rides, and felt frustrated at how little time is devoted to learning and being truly comfortable with GPS, radios, and other avionics controls.

There is a better way to learn avionics than while flying!
Realistic Hardware
As close to the real thing you'll find anywhere
Simple Installation
Plug in the cords and fly
Amazingly Affordable & Practical
Unlimited practice for the cost of one flight lesson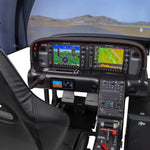 For training. for fun. either way, this is As real as it gets.
We pride ourselves on creating the most realistic flight simulation products possible. We do this becuase we believe that having a realistic and immerseive flight simulator at home makes you a safer, more profficient and confident pilot.
Shop Now
What Our Customers Are Saying
Great Product

Awesome product and great people to work with. They helped me with setup and the gps 430 works like a charm. They also recommended that I have the option to use the reality xp version downloaded into xplane. Wow this changed everything with their garmin 430. Good job!

Scott Brady
Very Surprised

This is an excellent unit. A great aid to spend time on the ground and train rather than in the cockpit burning up fuel/battery. The look and feel of the unit is precise.
Well worth the money/investment and it definitely provides convenience for those looking to learn how this unit operates.

Aaron D. Winter
Better than learning in the air

Learning to use the actual GNS430 in the air is tough. Learning to use it on a computer with a mouse is unrealistic. The RealSimGear GNS430 is by far the best. Being able to turn the knobs, push the buttons, navigate and fly in the simulator at the same time is the most efficient way to learn.

Doug Weise
Great Support

The RealSimGear GTN750 is a great product to add realism to your instrument panel. The setup is straight forward and the unit works great. Support from the RealSimGear team is timely, responsive, and communication is excellent.

Gary Penna
Still don't know where to start? We can help
Our support is second to none, with options available via phone, email, text or screen sharing. Have questions right now?