THE REALSIMGEAR SFx FLIGHT SIMULATORS
Building upon the success and popularity of our Cirrus Cockpit platforms, we have designed and developed a highly realistic replica of the Cirrus Vision Jet cockpit. This all new, full simulator product marks the world's first SF50 simulator platform specifically tailored for both home users and commercial operators.
We are currently in the final stages of development for both models, and we expect to start shipping this year. Both models are located below, so if you'd like to secure that spot, please reach out to our sales team using the links below.
TWO TURN-KEY SYSTEMS
REALSIMGEAR SFx PRO
The SFx Pro boasts a full cockpit experience, complete with custom avionics, force feedback side stick, full auto throttle, dedicated platform, chair and CAPS handle. Each physical detail in the cockpit has been closely modeled to reflect the real components in an actual Vision Jet aircraft. This is the most realistic and immersive experience.
Available for delivery in early 2024
REALSIMGEAR SFx LITE
The SFx Lite is a smaller and more compact alternative to the SFx Pro. While it retains much of the same avionics as the Pro version, it does not include certain features such as the yoke, CAPS handle, and the auto-throttle. Despite these omissions, the SFx Lite offers a streamlined and simplified design, making it easy to set up and relocate.
Available for delivery in Q4 2023
What's included
The new SFx platform is designed to provide a highly realistic replica of a Cirrus Vision Jet cockpit environment complete with our new RealSimGear Onboard Avionics Software designed to closely mimic the Perspective+ Touch avionics found in the real Vision Jet. Each physical detail in the cockpit has been closely modeled to reflect the real components in an actual Vision Jet aircraft including: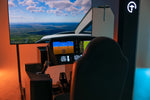 THE HARDWARE
Cockpit Controls:
G3000 like PFD and MFD screens
GTC580 like touch screen input devices
Custom avionics software designed to mimic and work like the real Garmin avionics
Landing gear, switch panel, and environmental controls
Force feedback side yoke
Throttle unit with auto-throttle and auto-trim wheel
CAPS handle
Realistic seat and mounting system
Fully self contained platform and equipment cabinet
Integrated computing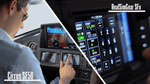 THE SOFTWARE
Introducing RealSimGear Onboard Avionics: A new standard of avionics for flight simulation. The system is designed for distributed computing and displays, where each avionics device runs independently of the main simulator for increased accuracy, realism, and performance. Being built on a custom stack, this allows for intricate and accurate failure modeling of the underlying components to enhance training on the ground. Like avionics on real aircraft, the RSG3000 is designed to run on many different hardware units, using communication protocols for information transfer on a local network. 
The RSG3000 features a dedicated processing unit for each GTC (Touch controller) and GDU (Display unit). This ensures that each device performs its respective tasks accurately and efficiently to simulate the behavior of the real aircraft systems. The platform is designed to be simulator-agnostic, leading to RSG3000 integration with both X-Plane and Microsoft Flight Simulator (Coming later).