REALSIMGEAR PRODUCTS FOR CIRRUS AIRCRAFT
Whether you currently own a Cirrus or are transitioning into or through the different models, the RealSimGear Cirrus Cockpit will assist in developing your skills and growing your confidence. Using a Cirrus Simulator, much like the real-world Cirrus aircraft, helps build muscle memory and minimize the negative transfer of skill in real-world flights. With the increased immersion the simulator provides, you can accelerate your learning of the new aircraft and its systems, learn the buttonology of all the new avionics, practice everything from pre-flight to shutdown following the Cirrus checklists and flows, and then use the sim to stay proficient with the basics of flying, while throwing in the occasional failure to see how you would react!
A CIRRUS HOME SIMULATOR HAS REAL BENEFITS
Practice IFR approaches
Practice checklist usage, cockpit flows and phases of flight
Fly into unfamiliar airports
Learn and get more comfortable with the G1000
Practice Perspective avionics
Practice advanced autopilot usage
Use with real ATC services to practice radio usage, IFR clearances etc
Develop muscle memory, become a more confident pilot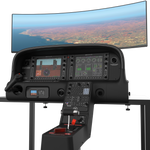 Learn the buttonology
If you're new to Cirrus, you've likely never used the vast array of buttons and knobs that a Cirrus Perspective or Perspective Plus package provides. It is hugely important to establish where you put your hands, which buttons do what, and where they are located. Then translating that knowledge into muscle memory make for an increasingly intuitive placement of your hands where and when needed. Things like engaging the autopilot and its many modes or changing frequencies from the GCU become second nature after practicing in the sim.
Master your checklists
From pre-flight to landing – There is a checklist for everything, and Cirrus stresses the importance of perfecting each. Following every step ensures the aircraft is correctly configured for every phase of flight. Whether checking your mixtures, selecting the right fuel tank, or improving your run-ups, each requires the utmost attention.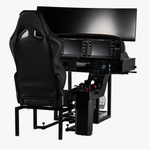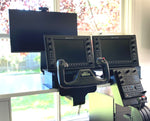 Establish your flows
Cirrus teaches the uses of flows which are memory items found in many phases of flight, reinforced by the use of the checklists. Some of these flows include runup, climb, cruise, descent, and emergency procedures, where instructors will want you to know these from memory. Having a Cirrus simulator that allows for proper hand placement allows the development and memorization of these flows to become second nature in the real airplane.
Nail those speeds
Cirrus really emphasizes speed and attitude flying. Using a Cirrus simulator allows you to practice hitting both during various stages of flight. Learn how power and flap settings change the attitude of the aircraft. Learn how being too fast or too slow affects the approach and landing. Use the simulator to practice precise speed, and attitude control, and the underlying concepts will translate into the real aircraft allowing you to grease those landings! If you are new to Cirrus, you can expect to go through all this with your CSIP (Cirrus Standardized Instructor Pilot). So why not be ahead of the game and be comfortable with the Cirrus cockpit environment and have your flows, checklists, speeds, attitudes, and power settings mastered before ever getting in the airplane? That way, you aren't fumbling with the controls and doubtful in your skillset, and you can actually focus on flying the plane. Use your time wisely with your CSIP to learn the plane's characteristics instead of the mundane things like "where are those checklists again"!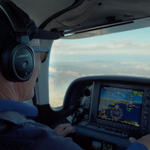 Whether it's working on high-density altitude takeoffs and landings – Or flying manual approaches and holding patterns, you can even pair it with pilot edge to create a super realistic experience. Simulate an upcoming flight the day or two before you actually leave, so it feels like you're doing the same flight all over again. You bought your Cirrus to enjoy flying. The RealSimGear Cirrus Cockpit will get you there – And keep you there.

G1000 + Cirrus Perspective Package
Designed to work with a Logitech or Honeycomb yoke plus Logitech throttle
Utilizes yoke desk mounting bracket
Includes PFD and MFD Displays
Includes GCU47X, GFC700 Autopilot and GMA350 Audio Panel

RealSimGear Cirrus Desktop Console
Designed to work with a standard joystick and Logitech USB throttle
Includes switch panel
Includes Mags, fuel tank select, boost pump and flaps switches with LED indicators for flap position
Includes fully integrated enclosure with all internal video adapter and all cables

RealSimGear Cirrus Cockpit
Complete system with force feedback stick and throttle unit
Custom enclosure with glare shield, LED lighting and all internal cabling
Suitable for desktop or sim frame use
Includes premium support